City Ordinance on Soliciting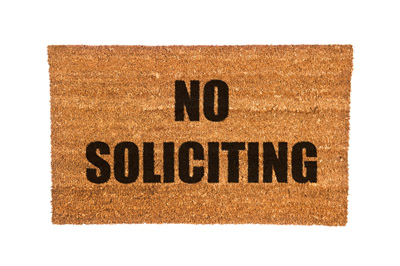 Many homeowners mistakenly believe that the "No Soliciting" sign at the entrance of the community prohibits door-to-door soliciting. Unfortunately, this is not true. The following summary was taken from the Jacksonville Municipal Code, Section 250.
The City does issue permits for door-to-door soliciting. The commercial or professional solicitor is required to make written application for a permit and the permit must be carried with the solicitor when engage in soliciting.

If you do not want solicitors to knock on your door, you must place a notice upon or near the main entrance door to your home containing the applicable words, similar to the following: "No Solicitors" or "No Soliciting Allowed or Permitted". This will constitute sufficient notice that any peddling or soliciting is prohibited at such residence.

It is unlawful for any person to go upon any premises for the purpose of securing an audience to engage in soliciting in defiance of the notice at the residence.

Residents might want

to use due diligence and check out vendors for licenses and insurance

before hiring them to do a job. Just because they are incorporated does not

guarantee that they are licensed to perform certain services.
Bottom Line: You must place a notice at your front entrance stating your wishes. If a solicitor ignores the notice, they are breaking the law and the non-emergency police should be called at (904) 630-0500.